Howdy!
We are Hooper and Whistle.
Married team truckers from the beautiful mountains of Colorado.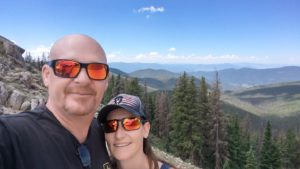 As empty-nesters, we decided to pursue a new career and see the country while we were at it.  We both went back to school and got our CDL A licenses and took off together in the cab of a truck.
After a ton of research, we decided to work for Abilene Motor Express as our first employers.  They were an OUTSTANDING company to work with.  We have nothing but great things to say about them.
Recently, we decided to go International, and started working with Skelton Truck Lines out of Canada.  We are thoroughly enjoying this adventure so far.  
We miss the Colorado mountains, but have seen parts of our BEAUTIFUL country that we had only dreamed of.  
Hooper and Whistle are our CB handles.  Hooper jumps out at truck stops and hula-hoops for exercise and fun.  Whistle spends the majority of his day whistling … while he works … while he plays … he just likes to whistle.  
Please visit our Blog as well as our Facebook page to see more photos and a travel log of our adventures.